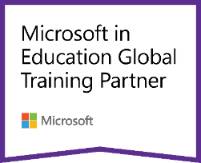 The courses offer self-paced lecture videos, interactive labs, practice exams, live instructor office hours, and additional in course resources.
Once you have completed the micro-credential, you are eligible to register and write the corresponding Microsoft Certification exam. You also receive a digital SURGE Micro-credential Badge which you can export to all your social media sites, LinkedIn, and your digital resumes.
Upskill your workforce today with custom Microsoft Training Solutions from Surge Micro-credentials. We can provide custom training on any Microsoft product and have expert Microsoft instructors ready to take your team to the next level. We offer a variety of delivery options including but not limited to in-person, online, pre-recorded, live-online, and hybrid. Contact us today to book your custom Microsoft training solution bergenjoh@saskpolytech.ca.
---
loading...