Surge Micro-credentials are the future of learning and are designed to meet the needs of today's rapidly changing job market.
Whether you're looking to advance your career or start a new one, Surge Micro-credentials are the fastest, most innovative way to get ahead. They're short, focused learnings that accelerate your skills in a specific area. For each micro-credential, you earn industry-recognized micro-credentials and/or micro-learning digital badges.
Get skills, get recognized
With every Surge Micro-Credential, you earn Micro-Learning badges and a digital certification to demonstrate your skills and expertise.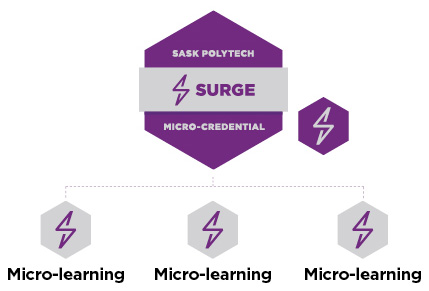 Display professional accreditation
Recognized by industry leaders
Show peers and prospective employers your up-to-date and relevant skills
Share on your resume and social media
Each micro-credential is built on 2 or 3 stackable micro-learnings
Surge Micro-credential badges allow you to display your newly earned professional accreditation with your peers and perspective employers. Badges are recognized by industry leaders and can be shared on your social media and resume.
Learners have access to real-world scenarios and projects that allow you to apply your newly acquired skills in a meaningful way.
Surge Micro-credentials can help you develop custom credentialing for your business with Surge Studio. From healthcare to trades, Surge Studio helps streamline and structure your training process based on your individual business needs. Contact our program development team to learn more: surgestudio@saskpolytech.ca.
We'd love to hear from you. Get in touch and we'll get back to you as within two business days.
Privacy Policy
The information above is collected for the purpose of contacting you about training opportunities. You can unsubscribe from the list at any time. For further information about privacy at Saskatchewan Polytechnic, see our Privacy Statement or contact Saskatchewan Polytech's Privacy Head (by mail at: 400-119 4th Ave S, Saskatoon SK S7K 5X2 or by email at privacyhead@saskpolytech.ca)